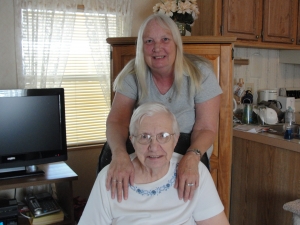 June 2012
Karen Beck
and
Betty Wood
Karen Beck is our new permanent resident at 119
Magnolia Lane. She was born and raised in Pittsburgh, PA but has resided in N.C. over 30 years.
Karen arrived in Florida on April 11 and closed on her new home at 119 Magnolia Lane on April 19. She was headed for a different park that she saw on the internet and made a wrong turn and got lost. She just happened on Plantation Landings and bonded with Karen Allendorf in our sales office. Both having the same first name. After viewing three or four homes, Karen fell in love with #119.
She has one daughter who is in the Army and station- ed in Germany. She also has one granddaughter in college in Mississippi.
Karen worked for Vietri in Hillsborough, NC for eleven years and retired in 2008. Vietri is a company that imports Italian ceramics. Prior to this, she was an LPN in North Carolina for twenty years.
She likes to read, crochet, knit, work on her computer and enjoys watching old sit-coms on TV. She also enjoys sitting outside and going out to lunch.
Karen's 90 year old mother will be arriving soon and renting at #7 O'Hara Dr. She will be featured in the right hand column. Karen enjoys doing many things with her mother. They like to entertain each other and she told me that they were not just mother and daughter but good friends.
Karen can be reached on her cell phone at 863-632-3021. She is very friendly and is very happy to be here at Plantation Landings
Betty Wood is our new long term renter at 7 O'Hara Dr. Betty was born in Pittsburgh. PA and lived there for 57 years. She and her late husband, Charles then moved to Valrico, FL. where they lived in a manufactured home park for 23 years. After 46 years of marriage, Charles passed away and Betty moved to Durham, N.C. to be close to her daughter, Karen. She lived in an independent living setting there.
Betty told me she came to Plantation Landings be- cause she is happier being close to her daughter. She says Karen is her eyes, ears, secretary, chauffeur and most of all, her loving daughter.
Although Betty is 90 years old she looks and appears much younger. She is sharp as a tack and loves to spend time with her computer, playing games, emailing her friends and looking up info on the internet. She enjoys watching TV and likes to go out to lunch. Karen said she "Eats to Live and Lives to Eat". She also enjoys playing cards and board games. Years ago, she drove across country with her husband, camping all the way across and back. She has camped in Nova Scotia, Canada and all throughout the United States.
Betty is the proud mother of four children, six grand- children and seven great grandchildren.
She can be seen riding around the park each evening in her daughters golf cart and she is very rapidly learning the "park wave". Give a shout out and a wave when you see them going by. They love to stop and check out everyone's pet dogs.