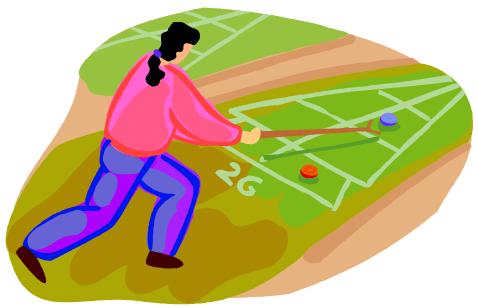 Shuffleboard is coordinated by

Charles Weirauch
The playoffs came to a conclusion Wed.21: Shirley and Gordon Davis were the Park Champions. Gary Militello and Larry Terris finished in 2nd place, 3rd place went to Thelma and Paul Ottenwess and Gloria and Dave Blamer finished 4th. Following the playoffs the luncheon was served in the clubhouse. About 87 people were in attendance. The awards were presented to the players. Roy Heaton was recog- nized with a plaque for his 16 years of service as shuffleboard coordinator. Pattie and Ray Van Horn and their crew did a great job preparing and serving the luncheon.
First for an update: The team of Carol Martensen and Barb Clark have filled the slot in Div II Wed. 10:30 am. In the same Div we still need a team for Wed. 9 am. My wife and I will be heading home to Maryland on May 3. Debbie Williams has volunteered to help me communicate with players that are permanent residents and keep the bulletin board in the game room updated. Those players that are snowbirds do not contact Debbie, instead contact me in Maryland at 410-679-0282, cell 410-458-5697, 410-929-9899 or email me at caweirauchj@comcast.net .
My wife and I hope you have a great summer and hope to see everyone next year.