The thrill of a lifetime occurred when Barry Haley offered Glory Stroman a ride in his two-seater home-built airplane with floats. Barry and Kathy Haley are winter residents residing at 334 Ashley Dr. While interviewing the Haleys for New Faces in the Messenger last year, Barry told her about his love for airplanes and flying. He built this Pelican plane back home in Whitby, Ontario, taking him six years to complete -- all the while working fulltime as an engineer on nuclear reactors at Ontario Power Generation.
Barry took Glory for a ride in his airplane on March 16th. WELL GLORY...YOU CAN CROSS THIS ONE OFF YOUR "BUCKET LIST"!
PHOTO TAKEN BY BOB CUMISKEY - 3/17/12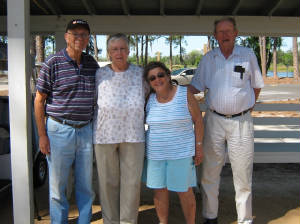 SATURDAY BOCCE RUNNERS-UP: HOT SHOTS
Saturday Bocce Runners-Up (The Hot Shots) are: Roy & Shirley Heaton and Jeanette & Richard Moats. Congrats to you too!
.
PHOTO TAKEN BY: IRV JOHNSON (4-11)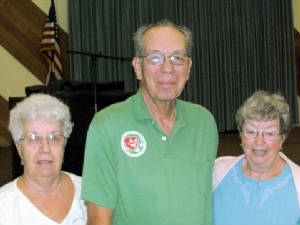 JUDY & PAT STAND IN FOR SHIRLEY HEATON. THE HEATON'S WERE MARRIED ON APRIL 14, 1956.