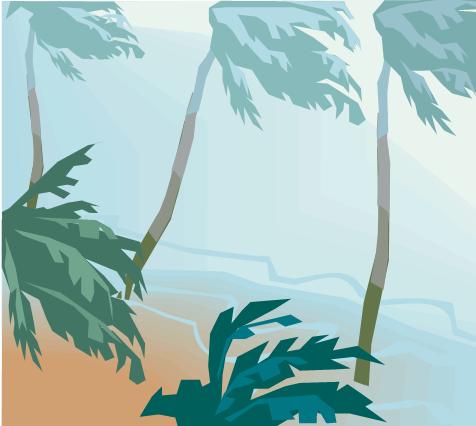 All Manufactured Homes are not designed to withstand hurricane winds. You will be faced with a decision to either
1. Evacuate to another location
2. Stay in your home
3. Evacuate to the clubhouse
All residences should have their colored cards to place in their front window the day before the storm. If you do not have your colored set of cards, or have any questions and will be in need of help, please don't hesitate to call or email your Block Captain. Red Card means "I need help" ~ Yellow means "I'm at home-OK ~ Blue Card means "I've chosen to leave the Park"
If you wish to evacuate to the clubhouse, there will be someone to answer the phone in the clubhouse a few hours before the storm comes. You may bring your supplies there but leave someone with your belongings. The other person may return home, and be picked up by the golf cart transport. Do not plan to leave your car or golf cart in the parking lot. It would create a hazard and CRF has asked that we not park there.
It is imperative to plan ahead and to give advance notice if you are planning to evacuate to the clubhouse as no transportation will be available once the storm has begun.
Items to bring with you:
· Three day supply of Water and Food
· Bedding
· Clothing, Toiletries and medications
· Flashlights and radios w/ extra batteries
· Pets must be brought in their crate or cage
Chairperson: Jeanette Seale 422-5658
Co-Chair: Bob Cumiskey 438-4978
Co-Chair: Dick Curtis 419-1805
Dixie Dr. Marlene Lima 421-0163
Dixie Circle East Len Potter 422-1654
Dixie Circle West Jerry McCally 852-3337
Tara Lane Dick Curtis 419-1805
O'Hara Dr. Dot Lambert 353-1402
Wilkes Dr. Glory Roth/Stroman 421-9872
Magnolia Lane Jeanette Seale 422-5658
Maple Crest Dr. Ray Kief 422-3271
Plantation Landings Dr. & Scarlet Ct. Helen Valliere 421-9188
Butler Blvd. Bob & Sis Cumiskey 438-4978
Ashley Dr. - Pl to Pl Lee Simmons 353-3458
Ashley Dr. - Pl Dr. to Cul-de-sac Rose Ptack 422-0724 & Kathy Michalski 852-8152

THE CLUBHOUSE IS NOT AN AUTHORIZED SHELTER. YOU WILL BE STAYING AT YOUR OWN RISK.